2021 Sunburst All-Stars
---
---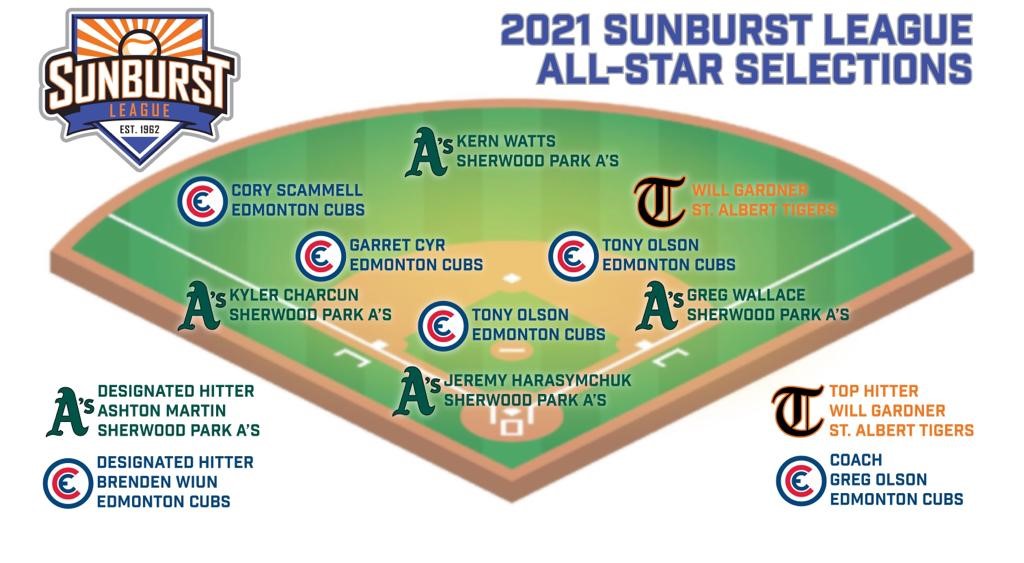 ---
In what was a season that required prompt start-up and agile responsiveness in light of everchanging COVID-19 restrictions, Sunburst League commissioner Dean Olson and fellow team General Manager's were able to put together one of the most competitive seasons in recent memory. Every team was loaded with talent, with teams like St. Albert armed with fresh, collegiate guys while teams like Red Deer and Sherwood Park relied on a core of well tenured veterans who prove year after year they can compete at the highest men's league level in Alberta.
After the Edmonton Cubs claimed the 2021 championship, managers from each team sat down to vote on the 2021 all-star team. If anything is a reflection of the depth of talent in this league, it was the all-star voting where all-stars per position were often only seperated by a single vote.
Here is your 2021 Sunburst League All-Star team:
C: Jeremy Harasymchuk (Sherwood Park)
Harasymchuk has been a staple behind the dish for the Athletics for many years now, but perhaps 2021 was his best season to date. The back-stop finished the season with an even .400 average and 1.037 OPS. Harasymchuk's biggest performance came in the final game of the regular season, where he hammered a grandslam over the left field wall against the Edmonton Cubs. He finished the day 2-4 with 4 RBI.
1B: Greg Wallace (Sherwood Park)
Wallace typically is among league leaders in OBP due to his ability to take walks when they come. He finished this season with a .493 OBP, but also added 2 homeruns and 14 RBI (tied for league lead) to his name throughout the 18 game season.
2B: Tony Olson (Edmonton)
Olson had an even .500 OBP, .500 SLG (1.000 OPS) this year, finishing second in RBI (12). The two-way threat battled injury throughout the season, but the Cubs depth allowed Olson to stay in the lineup with a reduced workload by stationing him at DH, 2B or 3B based on what was labouring the 26 year old.
3B: Kyler Charchun (Sherwood Park)
The Southwest Baptist Bearcat (NCAA II) looks to build off an incredible 2021 Sunburst campaign as he heads back to school for the fall. Charchun was the only player to bat over .500 this season (minimum 30 PA). He also had the league lead in OBP and OPS; His final slash line was .533/.639/1.272.
SS: Garrett Cyr (Edmonton)
Cyr batted .350 in the middle of the Cubs order, finishing second in doubles (5). That said, it was Cyr's defense that was most valuable to Edmonton in 2021. The local SEEBA product was sure-handed as ever for Edmonton, making all of the routine plays while flashing some highlight reel catches and throws in 11 games played for the Cubs.
LF: Cory Scammell (Edmonton)
Scammell finished second in AB in 2021 (63), and was 1 of 2 players league wide to play in all 18 regular season games. The 6'5 OF/1B bounced around the Cubs order, hitting anywhere from lead-off to clean-up while always putting together quality at-bats for the Edmonton club. His ability to get on base (.479 OBP) and timely hitting was crucial to the Cubs success in 2021.
CF: Kern Watts (Sherwood Park)
Watts lead the 2021 season in homeruns with 3, while finishing fourth in stolen bases with 5 on the year. The Sherwood Park CF also had 20 runs in 18 games (2nd in the league), along with a 1.047 OPS in 16 games played.
RF: Will Gardner (St. Albert Tigers)
Sunburst League rookie Gardner was awarded top hitter in the league in 2021. The Garden City Buster (NJCAA) terrorized Sunburst pitching all year, slashing .468/.549/.609. He also had 2 homeruns, both against the Edmonton Cubs, during his 2021 campaign.
DH (tie): Ashton Martin (Sherwood Park)
Martin was eager to get the 2021 season going, coming out of the gates hot on opening day with a 4 for 4 day against the Riggers on his way to winning hitter of the week in week 1. Martin had 8 multi hit games in 13 games played. His 1.154 OPS was good enough for third best league wide in 2021.
DH (tie): Brenden Wiun (Edmonton)
Wiun batted .423 this season with 4 doubles and a 1.061 OPS. He also was dominant on the mound, finishing 2-0 with a 3.46 ERA in the regular season. In game 2 of the championship series, Wiun threw a crucial CG against the Red Deer Riggers.

P: Tony Olson (Edmonton)
Olson finished the season and playoffs with a combined record of 5-0 in 5 total starts on the bump in 2021. In 35 total innings, he had 45 strikeouts with 4 complete games.
Projected All-Star Lineup:
1. P Tony Olson (Edmonton)
2. RF Will Gardner (St. Albert)
3. 3B Kyler Charchun (Sherwood Park)
4. 1B Greg Wallace (Sherwood Park)
5. LF Cory Scammell (Edmonton)
6. CF Kern Watts (Sherwood Park)
7. SS Garrett Cyr (Edmonton)
8. 2B Ashton Martin (Sherwood Park)/Brenden Wiun (Edmonton)
9. C Jeremy Harasymchuk (Sherwood Park)
Reserves:
P Taran Oulton (Sherwood Park)
P Rees DeRuyter (Red Deer)
C/IF Jaret Chatwood (Red Deer)
1B/OF Jason Louis (Red Deer)
2B/C Evan Bourassa (St. Albert)
3B/DH Dan Chappel (Edmonton)
SS/OF Rejean Bourget (Sherwood Park)
CF Dean Olson (Edmonton)