Player Spotlight: Craig Tomas
---
---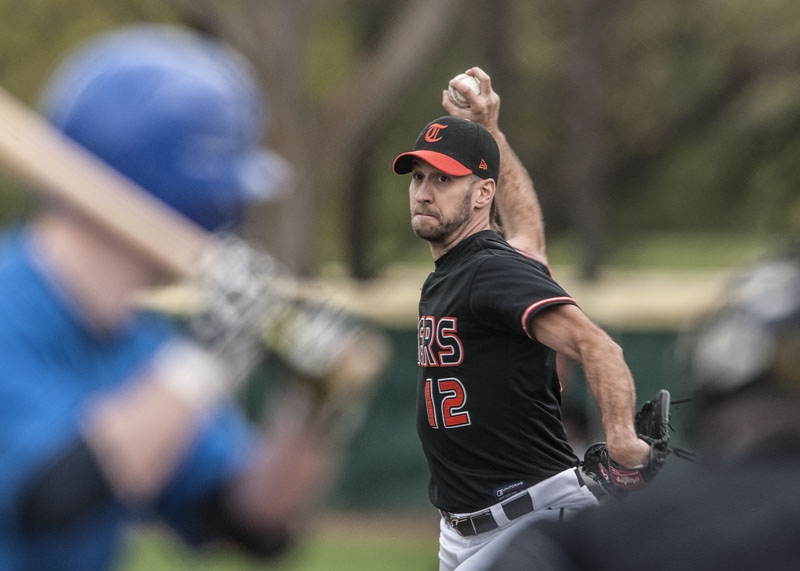 ---
Craig Tomas continues to defy time each and every year. A man who has not only played in the Sunburst for nearly 2 decades, but has been a force on the mound throughout his tenure, there is no telling when Tomas will hang them up. Tomas is still pitching with the best of them in 2021; In 29 innings pitched (4th in the league) this season, Tomas has 26 strikeouts (2nd in the league) and is 2-0 with 1 CG under his belt.
Tomas consistently impresses at the provincial level, and in 2019 also proved that he can still get it done at the national level. After getting picked up by the Sherwood Park Athletics for the 2019 National championship in Miramichi, NB, Tomas was solid in 3 1/3 innings of relief in the opening game against Newfoundland. The Athletics would go on to win the game 11-4 backed by Tomas' stellar and rare appearance out of the bullpen.
Tomas' value on the Tigers goes way past his ability to get hitters out. His character and integrity follow Tomas beyond the foul lines, as fellow Tigers always make note of Craig's capacity to be a great teammate. Tiger's coach Mat Brisson commented, "Craig is an amazing teammate, but an even better person. He shows up every day with a great attitude and sets a high standard for everyone around him. Just having his personality on the bench can make even the worst times feel a little bit better. It would be difficult to name someone more instrumental to the Tigers than Craig Tomas."
Tomas hopes to lead the Tigers deep into the playoffs this season. Fellow Tigers veteran Evan Hoffman shares Tomas' intentions to make a push this postseason: "Craig Thomas is an anomaly. He's won pitcher of the year for the Tigers every year, since I've been on the team, except one year when he decided to win MVP instead. He is the answer to the question of what is an example of a perfect teammate. He's loyal (playing for over 20 years with the Tigers), always there to pick you up (even after countless defensive errors behind him I've never heard him get angry at any teammate), and willing to give everything he can to help the team win (including starting both games of a double dip). The dude is so nice he even hands out 0-2 cockshots to opponents just because he feels bad that they fell behind. In regards to his performance this year... even after 20 years he's having one of his best seasons and every night he's on the bump we know he's going to give us a great opportunity to win a ball game. He is essential to us having a shot to win come playoff time. Craiger is Tigers baseball. It's a privilege to get to play with him and it's an honour to call him a friend."