Player Spotlight: Ty Wagar
---
---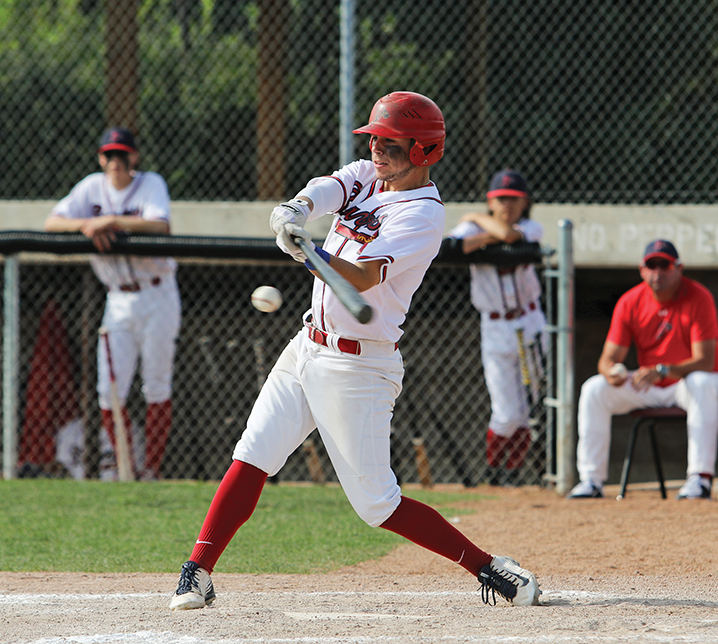 ---
Prior to a Sunburst League game, you will often see opposing players exchanging handshakes and banter as they maneuver around the ball diamond. In those pre-game conferences, there's a good chance Ty Wagar will be apart of the chit-chat.
A Lacombe product, Wagar moved to Edmonton to complete his Education degree while playing baseball for the Edmonton Collegiate Baseball Club (ECBC). It is well known around the Sunburst League that the ECBC program is a hot-bed for some of the league's most talented and young players. Hence, Wagar's involvement with the ECBC, along with his upbringing in Red Deer's minor baseball program, have allowed him to develop close bonds with many players in the Sunburst League.
Wagar isn't just a friendly guy with a familiar face however. During his time in the CCBC, he earned first team all-star credits in 2019. These days, Wagar can be found teaching at a K-9 in a small town (Bluffton) about 30 minutes from Lacombe.
We were super excited to chat with Wagar. As a guy who is in a lot of conversations around the league with guys on every team, we knew he could add some valuable conversation regarding the interests of various members in the Sunburst League:
"I was fortunate enough to play my college ball with ECBC in Edmonton and with that I made so many lifelong friends on and off the field. It's a really cool thing to have played with a lot of these guys for so long on the same team and now to be competing against them week in and week out. It's a great opportunity to catch up with the fellas a little bit as well as grind it out against each other for a little bit of bragging rights. When you play with certain guys for a while you can pick up tendencies or certain things they may do on the field, and it's been fun to try and exploit those a little bit. At the end of the day I'm really thankful the Sunburst league provides you with an opportunity to battle against and catch up with so many guys you might not otherwise get the chance to."
"The Riggers fans are amazing. To myself it has a little bit of a Junior Hockey or College Baseball feel to it where you have a passionate fan base that shows up game in and game out to support our team. One of the unique parts about playing for the Riggers is there are fans that have been supporting this baseball team for a lot longer than some of the guys have been members of the team, and to go out and play in front of them every Tuesday night is a privilege. I think as you grow up and play the game long enough a lot of times the fan base is made up mainly of family, friends etc. but one of the things that makes the Riggers fan base so passionate is you have the support from people who come out that truly just love the game of baseball and that has been awesome."
"The travel schedule can be a bit tough at times just being the only team from Central Alberta, but I like to think we do a pretty good job of making it work. Basically we make a trip up to the Edmonton area once a week for a road game and then have our home games on Tuesday nights. The Riggers have so many great guys on this team and guys that just love the game of baseball and love having the opportunity to play as we get older so I think that really makes travelling a bit easier. We have a couple guys from the Edmonton area on our roster which helps us for road games, and we have been carpooling quite a bit so that definitely helps with the number of guys that have to drive. Personally, and I think I speak for a lot of people, this past year/two years without baseball has been tough. We finally have the opportunity to be back playing the game we all love, and I think we are all just so excited to be back on the field that it doesn't matter if it's a home game or a game we have to travel for."
What league changes or initiatives would you like to see? What adjustments could there be made to the regular season and/or playoff schedule, rules, etc. that you think might foster growth in this league?
"I think the league has done an amazing job this year with the social media presence and website and that has made a huge difference. I think the league is unique and benefits from the fact we play two games a week as it allows time for work/family etc. Going forward I think it could be beneficial, if done correctly, to increase the number of teams in the league, so that there is a qualification for playoffs. I think that would only help to increase the competition level. One thing about this league that I love is you are able to play baseball at a high level still, but it is a bit more relaxed in the sense that it's not everyday like the college programs a lot of players in this league came from."
Wagar is currently hitting .275 with 6 runs scored in 40 at-bats this season.