Player Spotlight: Taran Oulton
---
---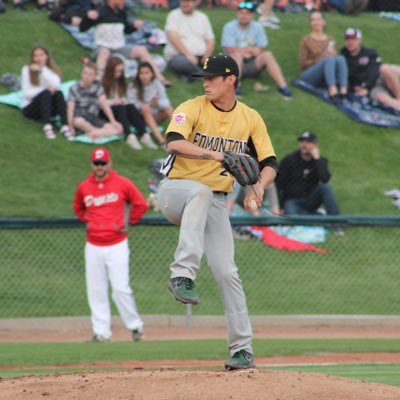 ---
On a Monday evening at Centennial Park, there's a very good chance you will see Taran Oulton toeing the rubber for the Sherwood Park Athletics. The 25 year old southpaw has been the go-to option for the A's this season in series openers, and for good reason. With 45 strikeouts in 33 innings, Oulton leads all Sunburst pitchers by more than double in k's.
Oulton is a local product from the St. Albert Minor Baseball Association. After an outstanding high school career, Oulton made his way to Hutchison Community College (NJCAA) and then William Woods University (NAIA) while spending summers playing in front of local fans at RE/MAX field for the Edmonton Prospects (WCBL). It seems any environment Oulton has pitched in he has thrived as a guy who wants the ball and loves to compete. In his senior season at William Woods in 2019, Oulton was named to the AMC All-Conference team, putting together a solid 3.87 ERA while only walking 19 in 88.1 innings pitched.
We chatted with Taran to discuss his motive to continue playing competitive baseball, along with his role in coaching the next generation of talented local players:
You recently graduated from William Woods University in 2019 where you had a very good collegiate career. As a guy fresh out of college, why did you decide to join the A's to continue playing competitive ball?
"During my summers at home I worked a lot and played with the Edmonton Prospects. The Prospects were nice enough to let me stay home during road trips to work and while they were out of town the A's would help me get my work in to stay fresh. I met a lot of good guys on the A's and on opposing teams too. The league helps me stay around the game and let's my competitive nature come out."
You're currently coaching the U18 AAA Sherwood Park A's. What has it been like transitioning to coaching and how do you think continuing to play effects how you coach your players?
"It has been interesting to view the game from a different perspective and really helps me gain knowledge toward the game. It makes me feel great to give back to the baseball community and work with young kids that are in the same position I was once in. Playing in a men's league also allows me to pick the brain of older players that have far more experience and knowledge than myself, so I feel that I can constantly learn and pass on good knowledge to my players."
We're really excited to get talented players like yourself playing in the Sunburst shortly after graduating college. What would you say to guys who are on the fence about continuing to play baseball after finishing high school or college baseball?
"I truly believe that if you really do love baseball then you will want to find ways to stay around the sport. I took a year off from baseball for my 5th year of college and I did enjoy it, but I felt like something was missing. As a very competitive guy the league allows me to go out and compete but also not be so hard on myself when it comes to results. Next to that I get to pitch against a lot of my friends and old teammates which is really fun, plus I have made some very good friends during my time in the Sunburst. I urge young graduates to try it out. It may not be for everyone but you also may be surprised with how much fun it can be."
Currently we have 4 teams playing 2 games/week, with a typical season featuring 2-3 tournaments. What other league initiatives would you like to see? How does the Sunburst League continue to grow and intrigue prospective players to join?
"I like the 2 games per week considering almost all players are adults with full-time jobs. I wouldn't mind seeing more tournaments as they tend to be a lot of fun. When it comes to recruiting players I think it could be a bit more relaxed. Players won't join a men's league if they are asked to play everyday. I think teams need to do their best to keep up-to-date gear, but keep the relaxed side of it too. After four years of college it is nice to relax and play the game and just have fun."