Week 5 Summary
---
---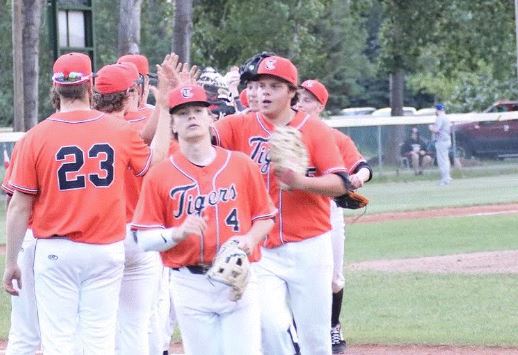 ---
We have officially crossed the halfway mark of regular season play in the Sunburst league. Teams are clearly very evenly matched this season, with 3 teams only separated by a game in the standings.
Here is a summary of the games from week 5:
July 12: Tigers (9) @ Athletics (13)
A late push by the Tigers wasn't enough on Monday night as St. Albert pushed across 5 runs in the final frame against the Athletics. Sherwood Park went on to win 13-9, with both Cole Jackson and Tanner Babiuk putting together 3 for 3 days. Babiuk was clutch with the bat as well, matching Kern Watts' RBI total for the game with 3. Nolan James had a big night for the Tigers, going 4 for 4 with 2 RBI. Taran Oulton was strong on the mound for Sherwood Park, going 6 innings while giving up 9 hits, 3 earned runs and 11 strikeouts while only walking 1.
July 13: Cubs (7) @ Riggers (6)
Josh Edwards took the ball Tuesday night in Red Deer, and was solid throughout his outing. Joel Peterman went off for the Riggers in his season debut, terrorizing the Cubs pitching staff while putting together a 4-4 day. With the Riggers down 2-1 in the bottom of the fifth, Edwards helped out his cause by blasting a 2-run shot to right field to put the home team up 3-2. The Cubs would eventually claw back, lead by back-to-back doubles by Tony Olson and Cory Scammell that would tie the game in the 7th and send the affair to extra innings. After scoring 2 in the top of the 8th, Cubs pitcher Jarvis Greiner shut the door after throwing 95 pitches in FMBA action for the Calgary White Sox the night before.
July 14: Riggers (1) @ Cubs (6)
Brenden Wiun made his first start of the season for the Cubs and was dominant on the bump, going 5 innings while only surrendering a first inning run. Ryley Ross and Nathan Wedgewood relieved the game for Edmonton; The Cubs staff limited Red Deer to just 4 hits on Wednesday night.
July 16: Athletics (4) @ Tigers (8)
St. Albert was able to snap their losing streak on Friday night, backed by a complete game performance by Craig Tomas. Kern Watts and Greg Wallace both had homeruns off of Tomas, however the Tigers offence was timely and took advantage of fielding mistakes by Sherwood Park throughout the contest.
Hitter of the week: Tony Olson (Edmonton) - 5/8 5RBI, 4R


Pitcher of the week: Brenden Wiun (Edmonton) - 5IP, 4H, 1R, 0BB
Week 6 schedule:
July 19: Cubs @ Athletics, 7:00pm Centennial Park
July 20: Tigers @ Riggers, 7:30pm Great Chief Park
July 21: Athletics @ Cubs, 7:00pm RE/MAX Field
TBD: Riggers @ Tigers