Week 4 Summary
---
---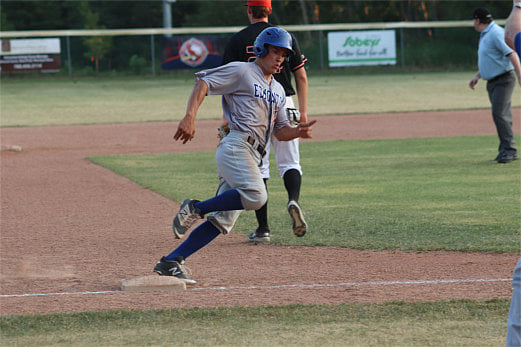 ---
We are nearing the halfway mark of the Sunburst regular season with teams continuing to bounce around the standings week after week. As it stands, here are the standings after 4 weeks of play:
Edmonton Cubs (6-2)
Sherwood Park Athletics (4-4)
Red Deer Riggers (3-4)
St. Albert Tigers (2-5)
There is still plenty of baseball to be played as teams try to set themselves up in as best of a position possible for playoffs in late August.
Here is a summary of week 4:
July 5: Riggers (6) @ Athletics (3)
This game featured an absolute pitcher's duel between lefty's Rees DeRuyter (Red Deer) and Taran Oulton (Sherwood Park). Oulton went 6 innings for the Athletics, striking out 12 while giving up 2 earned and 4 unearned runs. Rejean Bourget and Ashton Martin had 2-hit days for the A's, while Calvin Warwick added a single of his own. They were the only ones to have success off of DeRuyter, who was dominant throughout the contest and went the distance, striking out 10 while giving up 3 earned runs.
July 6: Tigers (5) @ Cubs (12)
The young and potent Tigers offence were able to get to starting pitcher Tony Olson (Edmonton) early, scoring 5 runs in the first 3 innings. Evan Bourassa, Will Gardner and Michael Brisson all had multi-hit days at the top of the order for St. Albert, with Gardner going deep in the 3rd inning. Down 5-1, the Cubs offence responded by scoring 11 runs, lead by Cory Scammell who had 3 RBI's and Derek Shedden who had 3 BB's and 2 runs scored. Ryan Kosolofski pinch hit for Cubs catcher Clay Davis in the 6th inning, and hammered a homerun to left field on the second pitch of his at-bat. He had a 3 RBI day after adding an RBI single later in the inning. Brenden Wiun (Edmonton) entered onto the mound in the 7th inning and put together a clean frame to end the game.
July 6: Athletics (18) @ Riggers (4)
The Athletics came into Great Chief park with a vengeance in a game with a score that looked like it could have happened next door at the football field. Sherwood Park's skeleton squad responded after a tough loss at home the night before, compiling 18 runs in the contest while scoring nearly every inning. The Riggers offence checked in late in the game, scoring twice in the fourth and once each in the sixth and seventh innings.
July 9: Cubs (14) @ Tigers (7)
Craig Tomas (St. Albert) and Taylor Thomas (Edmonton) went shot for shot Friday night in St. Albert, with the bout having to go to a judge's decision and each respective team turning to their bullpen. With the Tigers leading 7-1 in the fourth inning, the Cubs would go onto score 13 unanswered. Multi-hit games from Clay Davis and Brenden Wiun helped turn the Cubs order around throughout the affair.
Hitter of the week: Will Gardner (St. Albert) - 4/8, HR, 2RBI
Pitcher of the week: Rees DeRuyter (Red Deer) - CG, 10K, 3ER
Week 5 schedule:
July 12: Tigers @ Athletics, 7:00pm at Centennial Park
July 13: Cubs @ Riggers, 7:30pm at Great Chief Park
July 14: Riggers @ Cubs, 7:30pm at RE/MAX Field
July 16: Athletics @ Tigers, 7:00pm at Legion Memorial Park