Week 3 Summary
---
---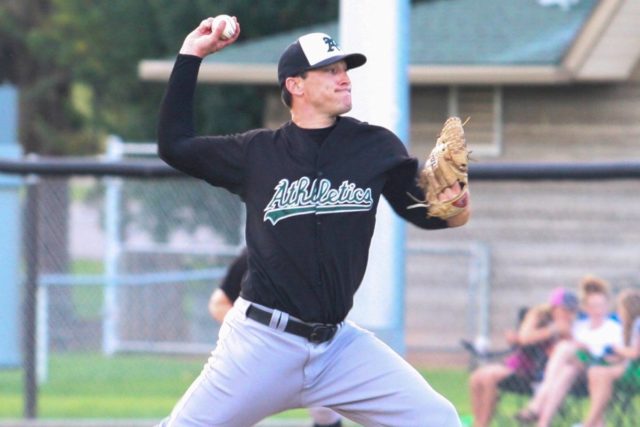 ---
Week 3 included 3 total games, all of which were decided by 1 run. The Riggers and Cubs walked off at home, while the A's pushed across 3 runs in the last inning in an exciting 10-9 loss.
Here is a summary of the games from week 3:
June 28: Cubs (10) @ Athletics (9)
Edmonton was faced with a tough test Monday evening, taking on Sherwood Park ace Taran Oulton. Oulton threw well, issuing 2 earned and 6 unearned runs over his 5 innings of work. Cory Scammell drove the Cubs offence, going 3 for 4 on the night with 2 runs scored. After the Cubs put up 5 runs in the second, Rejean Bourget and Ashton Martin lead the A's back into the contest, trailing by just 2 runs after 6 innings. The Cubs added 2 insurance runs in the 7th, however in the bottom half of the final inning Tanner Babiuk drilled a double off the right field wall to spark Sherwood Park's comeback. Shortly after, Calvin Warwick laced a triple in the gap, bringing the A's to within 1 run of the Cubs. With the tying run on 3rd and none out, Nathan Wedgewood left Warwick stranded and gave Edmonton the win in the first game of the two game set.
June 29: Tigers (6) @ Riggers (7)
Despite a heat wave, St. Albert made their way to Red Deer to take on the Riggers on Tuesday evening. The two teams had a game scheduled for Friday, however due to the long weekend the teams agreed to reschedule this game for a later date. Josh Edwards had the start for Red Deer, facing off against fellow southpaw Logan Blumhagen. In the third inning, Jacob Mireault (St. Albert) managed to score all the way from first base on an errand pick-off attempt. The game was a see-saw affair for the most part; In the top of 7th, the Tigers pushed 2 runs across, however the Riggers managed to push across 2 of their own to walk off the game.
June 31: Athletics (1) @ Cubs (2)
The debut of the newly renovated RE/MAX Field was a pitcher's duel on Wednesday night. James Fischer threw for the A's, giving up 6 hits and 2 runs over 6 1/3 innings while striking out 6. The Cubs had a staff day, with Ryley Ross, Jackson Wark and Nathan Wedgewood toeing the rubber at RE/MAX. The Cubs staff was solid; After giving up a leadoff double to Rejean Bourget in the first inning, the A's failed to record a hit for the rest of the contest. With the game tied in the bottom of the 7th, Dan Chappel laced a single to right field. After a Jarvis Greiner walk and Brenden Wiun hit by pitch, a passed ball to Blake Davis scored Dan Chappel from third base.
Hitter of the week: Rejean Bourget (Sherwood Park) - 4/7, 4R, 1BB, 2SB, 1.339 OPS
Pitcher of the week: James Fischer (Sherwood Park) - 6.1 IP, 6K, 2R
Week 4 schedule:
July 5: Riggers @ Athletics, 7:30pm Centennial Park
July 6: Tigers @ Cubs, 7:00pm RE/MAX Field
July 6: Athletics @ Riggers, 7:30pm Great Chief Park
July 9: Cubs @ Tigers, 7:00pm Legion Memorial