Week 2 Summary
---
---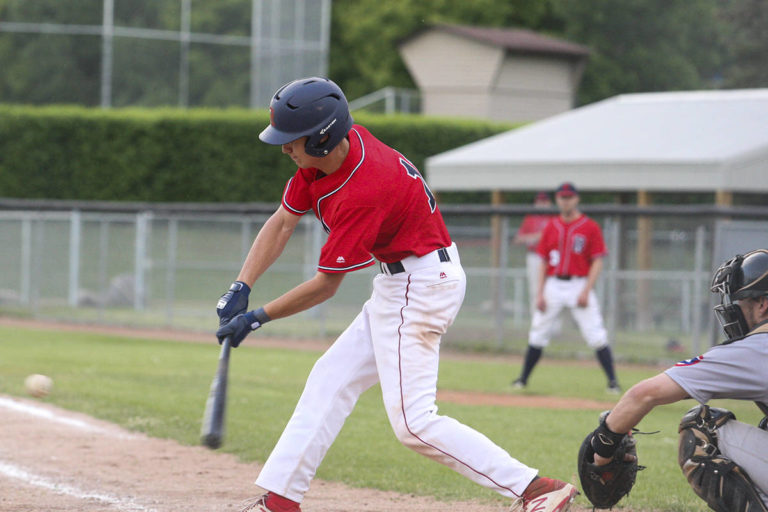 ---
It was a week of sweeps as Edmonton and Sherwood Park swept their respective series' in week 2. Week 3 sees the Cubs and A's face-off for a 2 game series. St. Albert and Red Deer will play once in week 3.
Here is a summary of the games from week 2:
June 21: Tigers (2) @ Athletics (4)
Taran Oulton (Sherwood Park) and Drew Boyer (St. Albert) squared off on Monday. Boyer managed to put in 3 innings of solid work, allowing 3 hits and 1 earned run while striking out 4. Oulton went 5 innings before leaving the game with the game tied 2-2. The A's were able to put up 2 runs off the Tigers bullpen. Brock Withrow ended up picking up the win and Dylan Theroux slammed the door for the save for Sherwood Park.
June 21: Riggers (2) @ Cubs (10)
The Cubs bats came alive on Monday, compiling 11 hits off Riggers' ace Josh Edwards, then adding 7 more off Red Deer's relief arms. Blake Davis and Cory Scammell lead the offence for Edmonton, putting together 4-4 and 3-4 days respectively. Jarvis Greiner was solid on the mound in his second start of the season for Edmonton, and 4 Riggers each had a hit a piece: Love-Hollman, Louis, Claerhout and Wagar.
June 22: Cubs (4) @ Riggers (1)
With the game all square in the fifth, Dan Chappel hammered a huge 2 RBI double for his Cubbies that ended up being the difference in the contest at Great Chief Park. Red Deer sent out 2 young arms against Edmonton, and both were up to the challenge. PBA products Rees DeRuyter and Brett Porter were solid throughout the day for the Riggers, keeping the Cubs bats tame for a good part of the evening. Tony Olson (Edmonton) went the distance while supporting his efforts with a homerun.
June 25: Athletics (4) @ Tigers (2)
A repeat of Monday, the A's managed to put away the Tigers with a 4-2 victory on Friday night. Craig Tomas was solid for St. Albert, however the Tigers were unable to provide the necessary run support. Kern Watts smashed his first homerun of the year, and Cole Jackson was clutch late with a game winning RBI.
Hitter of the week: Blake Davis (Edmonton) - 4-7, 3B, RBI, R, 1.428 OPS
Pitcher of the week: Tony Olson (Edmonton) - W, CG, 6H, 1ER
Week 3 schedule:
June 28: Cubs @ Athletics, 7:00pm Centennial Park
June 29: Tigers @ Riggers, 7:30pm Great Chief Park
June 30: Athletics @ Cubs, 7:00pm RE/MAX Field
TBD: Riggers @ Tigers